With your Android phone, you can conquer the world. Or at least get your college degree. Though you don't have to take online education courses through your phone to use it to its full learning potential, you can use it as a study tool, a calculator, or just to help you get to class on time.
Read through this list of the ten best apps for school to find out how your smartphone can send a little knowledge your way and make school a little easier.
School Assistant + works with Google Calendar to keep track of all your classes. Schedule one in, and you have the option to have the app mute your phone during that time period. It will also notify you about upcoming tests and quizzes in a user-friendly interface. For under $2, School Assistant has the capability to keep you organized and on time all year.
Ever get stuck the day before a big test with no flashcards on hand? By the time you've cut out tiny little boxes from paper, you've already drained an hour of study time. Use this quick and easy app to create flashcards and quiz yourself while you're at lunch, the library or just another class.
Study Droid is to grades as School Assistant + is to scheduling. It's essentially an organizational app, but one that focuses entirely on your school assignments and grade tracking. For $.99, it's a great tool to have at your disposal for keeping track of how you're doing in each class. It can get frustrating to use if you have homework heavy classes and get multiple assignments back each day, but it will give you an accurate picture of how you're doing if you take the time to update it. .
Though somewhat pricey, Ceardannan's language apps are completely worth it. They come complete with dictionaries and grammar guides, as well as exercises for vocabulary, different parts of speech, listening and speaking exercises. If you had the dedication and the patience, you could actually learn the language just from this app. However, it makes a much better supplement to a course. They also have French and Portuguese languages available.
The Andie Graph app will turn your phone into any of the popular Texas Instruments calculators. The one caveat is that you have to actually own a calculator to be able to extract the ROM from. However, for most people who graduated high school recently, that shouldn't be a problem. This will save you from having to carry around your clumsily large calculator, though, and make life more convenient.
Honehead has a variety of national standardized math exam study apps. As well as letting you progress through over a thousand questions, they also track your progress and let you save quizzes. GRE Math also shows you step-by-step solutions to problems and lets you save quizzes to come back to them later. For a free download, this app is essential for those preparing for grad school.
Most students are lost without the referencing powerhouse that is Wikipedia. Whether you needed some background information on the Panama Canal or on how Disney interacted with the consumer during World War II, Wikipedia has been there for you since middle school, as long as you had a computer. Take it with you everywhere in college with this handy mobile app.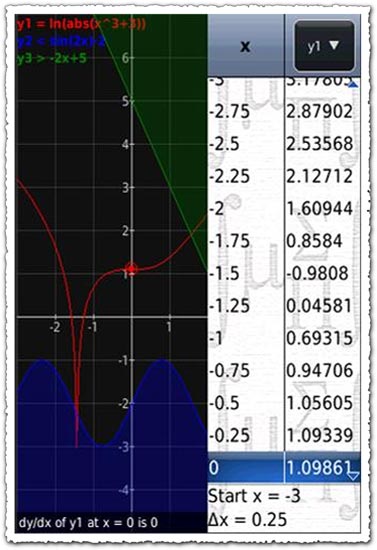 If you've never had to buy a Texas Instruments calculator for school, but need the same functionality, look into the Math Pac College Calculator. Their calculator will perform high-level functions, just like the TI-84, but it will also let you zoom in on graphs and perform analysis. If you need to test-drive it before sinking $15 into a phone app, the developer gives you a full 48 hours with it where you can still get a refund. You'll find it's well worth the money compared to a $119 standard graphing calculator!
In your head, you know there's an app for everything. But it doesn't really sink in until you see that someone has actually made one that makes chemistry fun. Perfect Chemistry is a game where you solve for the missing coefficients to balance equations and also lets you look up over 1,600 different compounds. The game features an interactive Periodic Table that lets you zoom in and look up elements. If the price tag doesn't appeal, there's also a lite version with ads.
Comments